Best Paella in Panama City
If you are passionate about discovering new flavors or tasting the most traditional dishes with an avant-garde twist, we suggest you to visit our Spanish Restaurant in Panama, with a fusion of the most native flavors and the best local product. El Jardin de Gaudi is a Spanish restaurant in Panama where we combine the best of both cuisines. You will find the best Paella in Panama, as well as other delicacies with Mediterranean flavors inspired by the city of the genius Antoni Gaudi, Barcelona. A completely evocative, fresh and modern space, where to meet with friends or family and discover together new flavors nearby. Visit us at our 5-star hotel Gran Evenia Panama, taste the best dishes of Spanish and Panamanian cuisine and finish with a drink at our Rooftop with pool!
Other Spanish traditional dishes in Panama
Taste the best Paella in Panama. A delicious Panamanian seafood rice prepared by our Catalan chef Carles Guitart.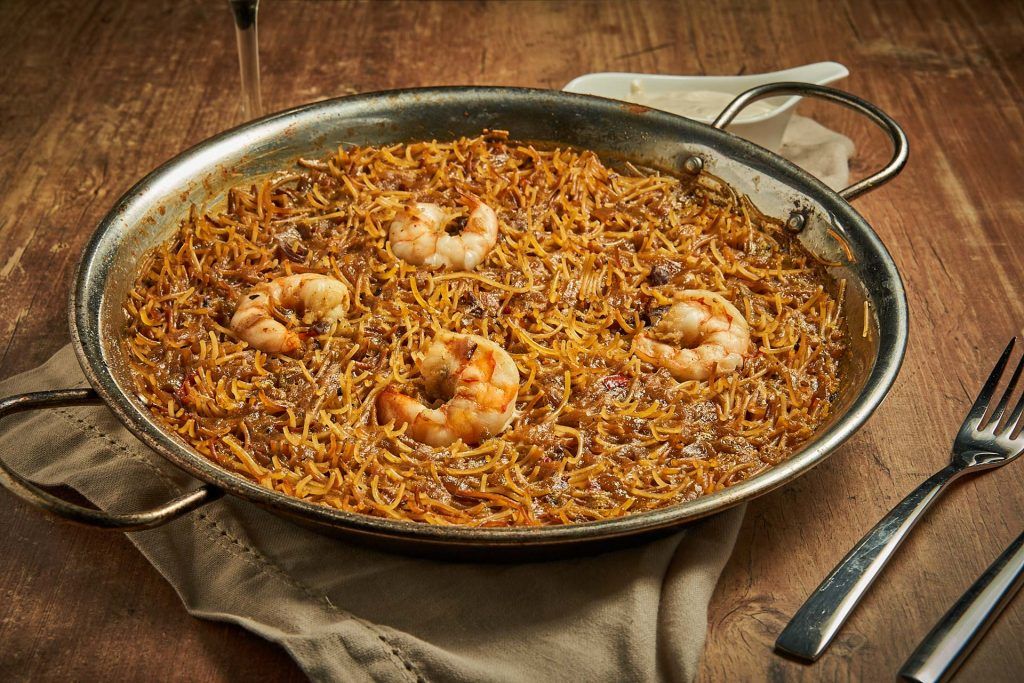 A traditional dish from the Mediterranean area of Spain which, together with Paella, is one of the best Spanish seafood dishes.
Refreshing, tasty and delicious, Gazpacho Andaluz is the typical dish par excellence of Andalusian cuisine, especially in summer.
We offer the best and most traditional Spanish tapas, from croquettes and omelettes to eggs "estrellados style", accompanied by a refreshing sangria.
Spanish Restaurant with the best paella in Panama
Spanish cuisine is known and praised internationally, its flavors are close, simple and easy for any palate. The combination of the best products of the Mediterranean diet with natural cooking results in pleasant flavors that are highly appreciated by all cuisines. Finding a Spanish restaurant in Panama is not complicated, given the brotherhood between the two countries, and the similar culture that brings them together, but you will only find the best paella in Panama in one place, the restaurant El Jardin de Gaudi.
Our Spanish restaurant is fused with the best of Panamanian cuisine and, of course, its local product to achieve a balance in sustainable economy. Located in the El Cangrejo neighborhood, inside the 5-star Gran Evenia Panama hotel, it offers diners the possibility to enjoy a sophisticated atmosphere with several spaces, a fresh and evocative decoration of the cosmopolitan city of Barcelona, as well as the chance to end the evening with a drink at the Rooftop of the hotel, which has a beautiful pool with a bar specializing in cocktails and, of course, with stunning views of Panama City.
Worldwide known and desired, the Spanish Paella is one of the most international dishes that exists, although it is one of the most difficult to cook. Its origin is in Spain, specifically in the Mediterranean basin of Valencia. It is often referred to as Valencian paella instead of Spanish paella, mainly in its country of origin. There are, in fact, many varieties of Paella, the original being Paella Valenciana, which is usually made with a mixture of meats and no seafood.
The origin of the dish was born from the needs of the peasants and shepherds of the area, so the ingredients had to be easy to find in the area. As is to be expected, over the years and centuries the dish has evolved from its beginnings, when it was made with only rice, flour and almond milk, to the large number of ingredients with which it is currently made, it has changed almost radically. Currently, although rice is still its main ingredient, the most replicated Paella is the seafood Paella, with products derived from the sea, something that in its origin was not this way.
More Spanish traditional dishes in El Jardín de Gaudí
Why do we have the best paella in Panama?
The secret of our paella is the combination of tradition, experience and product. Our Panamanian seafood rice makes the difference because there is no better place to find the right products for our paella in Panama than in its own waters. In this way it is a paella of Spanish methodology and cooked by expert hands that have prepared the dish on countless occasions, but with an unbeatable product that comes from the waters that bathe the country where you are going to taste the paella..
If you want to savor a unique dish, in a special place with roots deeply rooted in tradition but in an innovative format and stunning flavors, do not hesitate to book a table at our Spanish restaurant El Jardín de Gaudí. Or even complete a special weekend in our luxury hotel Gran Evenia Panama, where modernity, service, facilities and gastronomy complete an unparalleled experience in Panama City.